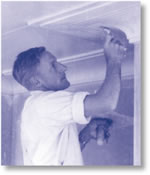 Allan Seddon - (photo 1950's)
Fibrous plaster first was introduced to Dunedin in 1890 and the business of fibrous plastering was commenced in Mosgiel by Allan Seddon in 1953. Seddon's are now the major manufacturer of fibrous plaster in the lower South Island of New Zealand and this family tradition has continued to the present day with John Seddon now as Seddon's Managing Director.
The current board of Directors have had a long and extensive experience in the building industry. Their commitment to the development and expansion of fibrous plaster as a quality building product has seen the development of interior ornamental mouldings, gas fire surrounds, and new unique cornices.
What is
Fibrous Plaster?
The term 'fibrous plaster' is usually used to describe a thin lightweight modular construction composed of fibreglass rovings soaked in gypsum plaster and cast in a mould. The technique superseded solid lime and gypsum plaster for fine decoration in the late 19th century and is the principal form used today for cornices and other fine decorative work.
The Origins of Fibrous Plaster
The technique of reinforcing gypsum plaster with hessian or canvas has been known and used for thousands of years, and probably predates the Pharaohs. However, modern fibrous plasterwork can be said to date from Leonard Alexander Desachy's patent of 1856, which drew on a Parisian formula.
In recent years, fibrous plaster has come into its own, as increasingly flexible moulding compounds have made it possible to produce casts with fine sharp relief, undercut decoration, piercing and inlays, and modern plasters have also increased strength and lightness.